Google my business is an online platform offered from Google to manage a business listing in Google. One Google my business listing can be used at many places like in Google map, Google search when user searches plus you can use that location on your website so that customer can easy see your business address and reach there.
People use different name for Google my business listing and this is very clear from Google search. Some popular search queries are
Google my business
Google local listing
Google map listing
Google business address
How to add business in google
Benefits of Google business listing
If you are doing business then Google my business should be your 1st step to Go online. I know lots of doctors and similar businesses who are getting 80% of their business from Google map listing. It is easy also for customers to search for someone in their local area and check reviews/ratings before visiting that business. You can use it in Google Search Ads.
Having a great review can bring you lots of customers, but poor reviews can take away your sales. Also, ranking in the top 2 positions on the local listing is important to get more customers. There are some best practices to get in the top 3 listings. For example, you can see in below image that we are ranking at #1 & #2 for our 2 locations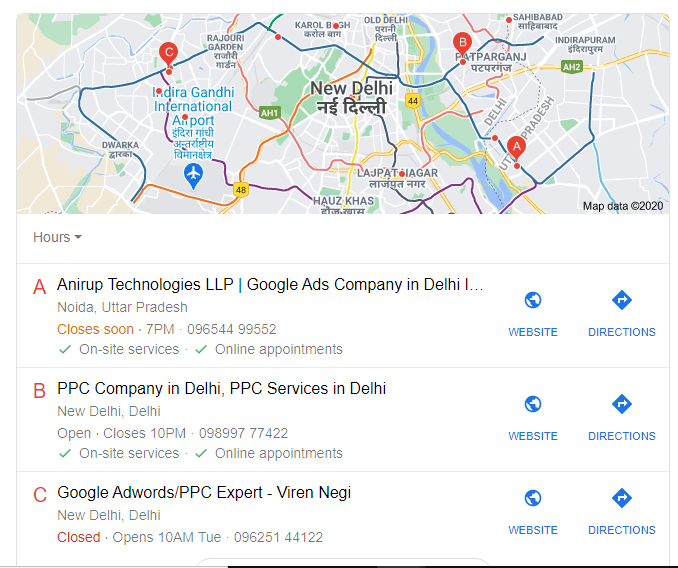 Some of the benefits of Google business listings are
Free online presence in Google
Get a Free website
Receive customer feedback and show to other customers
Customer can easily reach with Google map direction
Add you phone no so that customers can call you
Add your business photos, videos
You can add it on your website
Add multiple store/branch location
Get trusted by customer
How to change the address in google my business
There are many reason why people need to change their address. Mostly they changes when their business shift to new location or there are any mistakes in address. So, here is simple way to change your address in Google map or Google local listing
Steps to edit google my business
Step-1 : Login to Google my business here https://www.google.com/intl/en_in/business/ Use the same email id which you used to create your Google my business account
Step-2 : If you have multiple locations, then select the location which addresses you want to change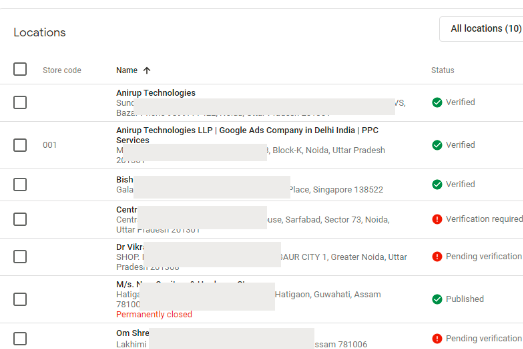 Step-3 : On Next page, click on info tab in left side . See below image for reference.
Step-4 : Next, click on pencil icon to edit existing address.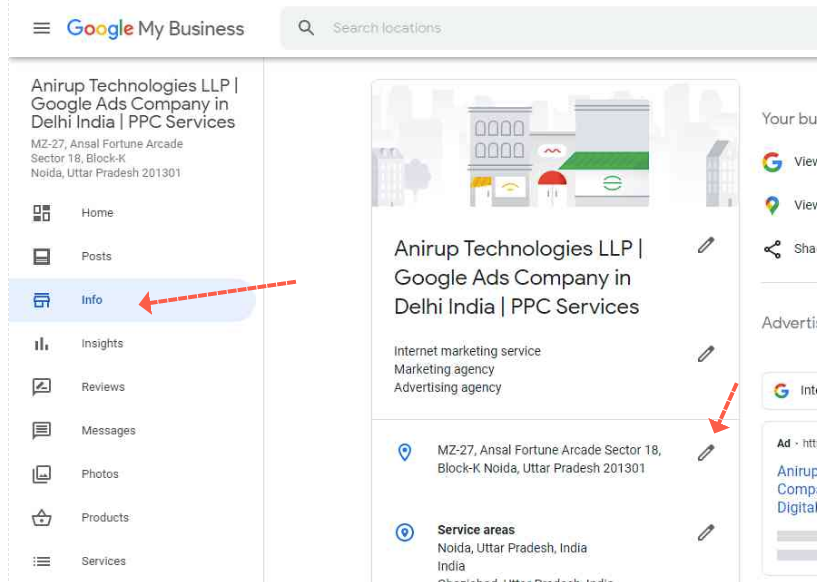 Step-5 : On the next Popup Window, you can enter your new address. Don't forget to select & put the marker at the correct address in the Google map.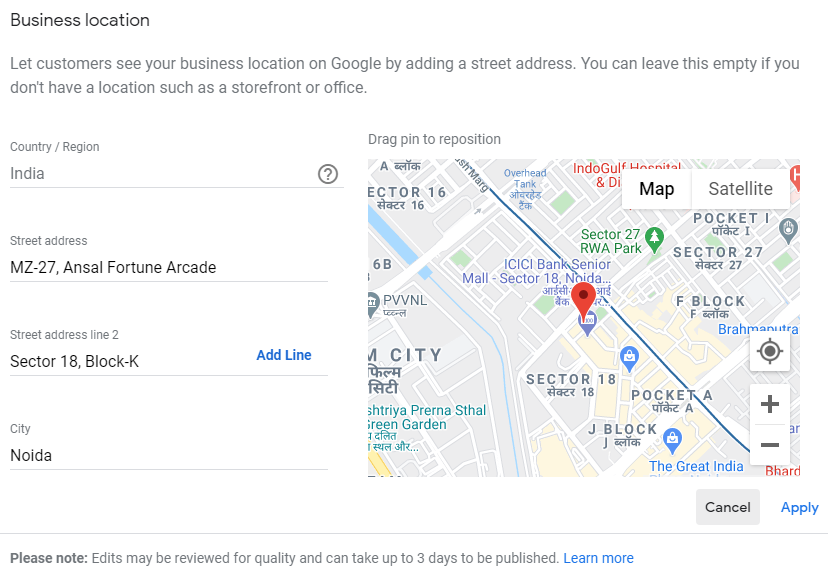 Step-6 : Click Apply . It will ask you to enter your name to send a postcard at your address.
Receiving the postcard is one of the most challenging task. I have noticed that courier guys don't delivery them on time or lost them considering it non-important document.
wait for 2 weeks for the postcard, if you don't receive it, then login again to your Google my business, it will show you to enter your PIN (which you should receive by postcard) and verify the business. Click on it and on next page request a postcard again.
Many time, requesting it 2 times after 15 days do the magic and postcard received.
If nothing seems to work, then contact customer support there and they may ask you for a photo with your name and address mention in front of your business. You have to send them and they will approve it in few days. you can see the Support link option at bottom of the left side navigation.
Bonus tips
Keep your business time, phone no, website and other info up to date
Add photo & video to get more customer view
Link google my business with Google ads to use them as location extension
Use the same info of your business on all platforms like the Facebook page, LinkedIn page, Twitter etc. It will help you get a better ranking.