Cost Of
GOOGLE ADS

in India

There are 2 types of PPC or Google Adwords costs involved. One is the Agency PPC management fee and the second is advertising cost or budget. For example, if your daily budget is Rs.1500 then the Agency PPC rate can be Rs.10000, or if your monthly Google ads budget is Rs.1.5lac then our standard PPC packages will be suitable for you that can cost you Rs.14000 per month and so on.
AGENCIES' PPC PACKAGES
A PPC agency gives time and uses its resources to set up, monitor and optimize ads for the best possible result. They help businesses to get the best possible result from their PPC marketing budget. For this, they have a professional PPC package or Google ads Package and this depends upon many factors like
Types of PPC advertisement
PPC Budgets
Size of Accounts
Time involves managing campaign
and any mutual agreement.
PPC or ADWORDS COST OR BUDGET
This is the marketing budget for PPC and it is completely used to promote client's business on Google or Facebook or both. Ads are charged for each click or view on ads. So, depending on budget, a business will get corresponding ad clicks, views and results. There is no fixed rule on how much one should spend on PPC Services, but it should be according to
GOOGLE ADS COST

INDIA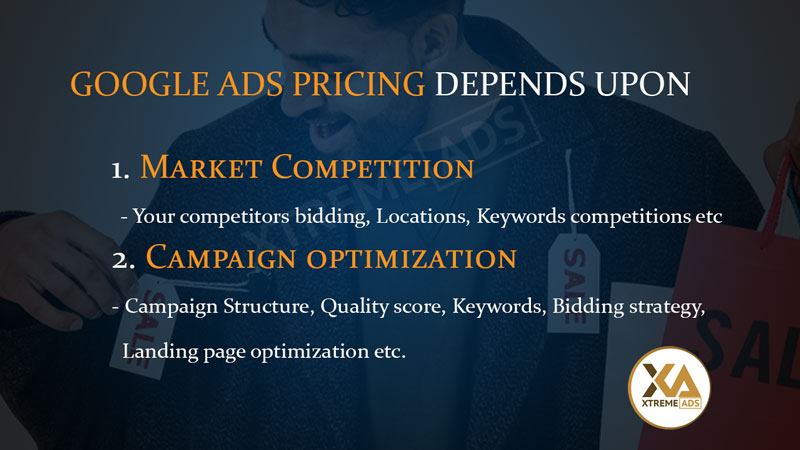 Given below are our standard Google ads management costs per month. Work details are mentioned for each package. We also offer custom Adwords packages or PPC pricing to businesses with unique requirements.
These 3 PPC Packages are good for small to medium size accounts with a budget of up to ₹300,000 or $5000. Contact us for a custom package for a larger monthly ad budget.
PLAN A
Budget (monthly): ₹20K-₹50K ($500-$1000)

Types of Campaign*: Search, Remarketing

Save 10% on Quarterly fee
PLAN B
Budget (monthly): Up to Rs.1.5Lac ($3000)

Keywords/Products: upto 150

Types of Campaign*: Search, Shopping, Remarketing & Display

Monthly Fee: Rs.18K ($300)

Save 10% on Quarterly fee
PLAN C
Budget (monthly): Up to Rs.5Lac ($7000)

Keywords/Products: Upto 250

Monthly Fee: Rs.24K ($400)

Save 10% on Quarterly fee
PLAN D
Budget (monthly): Up to Rs.10Lac ($15000)

Keywords/Products: Upto 300

Support: Chat, Email, Phone

Monthly Fee: Rs.36K ($600)

Save 10% on Quarterly fee
We are a specialized Google ads agency in India. We offer complete Google ads services for Lead generation, eCommerce sales, youtube promotion, branding. We manage all types of campaigns like Search, Display, Remarketing, Shopping campaigns, Apps ads, Video ads & more. Our PPC Pricing depends on many factors like
Monthly advertising budget
Size of Ads account (No. of campaigns, keywords, ads etc)
Types of campaigns (search, shopping, smart, video etc)
and resources required to manage it.
We charge a fixed price for a small budget account while for a large budget account, we charge a percentage of monthly Ad spend.
With Each Google Ads Packages (PPC Plans), we offer many complimentary services
Google Analytic Setup (free)
Google analytic is a website traffic monitoring platform. We use it to view the visitor's behavior and make our decision accordingly.
Conv. Tracking (free)
No marketing program can be successful without tracking and monitoring its results. Conversion tracking helps us understand ROI.
24x7 Support
Each of our PPC Package & Services comes with 24 hr email support while other supports are available during working hours.
Competitor Research
All our advertising campaigns start with market research & discussion with the client. It helps us design better strategies.
Website Consultation
Google ads or FB ads are not just about creating ads & targeting an audience. Websites play half of the role and it needs to be better optimized.
100% Transparency
Our clients get full administrative access to our Ads account. They can see reports & billing in real-time. Also gets full Account ownership.
Factors affecting Google ads cost India
Nature of your business: Advertisement for some businesses can be very costly due to high competition for it. For example, if you are selling high-worth items ( like any property) then surely everyone will try to pay higher to get a customer and this increases the competition and so you will have to pay more to Google Ads.
Keywords: Some keywords can be cheap while some are very costly. So it also decides how much Google Ads pricing will be. If more advertisers are competing on similar keywords then its price ( bidding) will increase and in some cases, one-click can cost more than $100.
Ads Position: The top of the position is more costly than the position below it. So if an Ads is showing in the 1st position may pay 30% more than Ads showing in 3rd position. One of the best strategies is to make more attractive ads and show in the 2nd or 3rd position. Better Google Ads can get more clicks even at this position.
Location and Time: If there are more advertisers in a location for the same keywords, then it will increase the cost of Google Ads and similarly it may cost at prime time.
Optimization & Management: How well is your campaign and keywords optimized also decides the cost of keywords. For the same position, the cost of a click can be different and it depends upon the keyword's quality score. This QS depends upon many factors and it can be increased with better account optimization.
We can not control the competition in the market and so the cost of Google ads. It doesn't mean it is not profitable. Millions of businesses are using Google Ads or PPC to make huge profits. One needs to make a better strategy while using Google Ads.