What is Google Shopping ads or Product Listing Ads?
Shopping ads are product ads with pictures of product, price and small description as given in the below picture. A customer gets idea about the product before he clicks on ads and so shopping ads bring more interested visitors on the website. This is also one of the main reasons why shopping ads bring more sales than any other ads.
Drive online and in-store sales with ads like Showcase Shopping that show on Google Shopping and the Search Network.  With Shopping ads you can promote your product listed on your shopping website.
This campaign does not need any keywords, google use your product data and shows ads to the user on related searches in Google.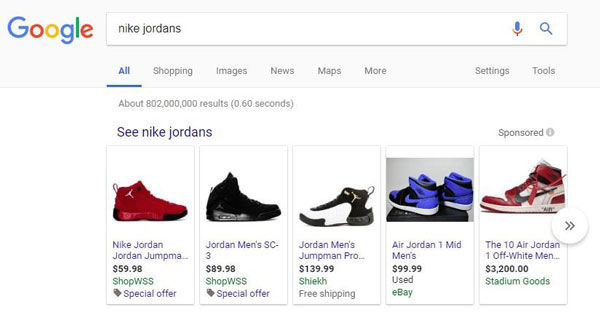 How to Setup Google Shopping Ads?
Setting Shopping ads is a multi-step process and is slightly more complicated than search or other campaigns. For a new user, it can be challenging to do it. Once the shopping campaign is set up, then you don't have to do more and all you need is to manage search terms, add negative keywords etc.
The basic requirement to use Google shopping Ads are
A Shopping website that follow all Google ad policies
Google Ads account (free to signup)
Google Merchant center account (free to signup)
Google search console (free to signup)
Able to Edit your website & can add some tracking codes
and experience with Google ads optimization for better ROI
We're a leading Google Shopping Ads Agency in India. You can contact us to learn more.
These are 4 steps to set up Google Shopping Ads
Google Shopping ads benefits
Shopping Ads or Product listing ads are specially designed for retailers who want to promote their product with Google ads.
Some of the benefits of Google shopping ads are
Great Conversion Rate - More People buy products
Better ROI
Automatically create ads for thousands of products
Google Smart Technology show the right products to customer
Cross-promote on multiple sites like Google search, Youtube, Mobile, Display or Gmail
Smart Shopping campaign help reach more audience & bring more sales at low cost
Easily manage all your products data in once place
Show your product ads with image, name and price
You pay only when user click on ads and visit your online store
You can control which product you want to promote
You don't need to design ads. Google takes all data from the feed.
You can control your shopping Ads budget, targeting location, timing etc.
An Expert will always do a better job and bring more profitable results in the future. If you own an online retail store and want to set up Google or Facebook shopping ads, then we can help you. We are a leading PPC agency for Google shopping Ads India.
Google Shopping Ads Optimization Tips
There are many techniques to manage and optimize Shopping ads to get more sales. We have listed a few of technique which one must follow to optimize his Product listing ads on Google.
These are some of the tips
FAQ - Google Shopping Ads