2000+ Projects Managed since 2010
(Call between IST 10am-7pm)
Google Ads is one of the most powerful digital marketing tools to get quick and profitable results. We're a Top Google Ads agency in India that offers professional GoogleAds management services at an affordable monthly fee. We can guarantee more conversion, better CTR, low CPC & CPA and improved return on ad spend.
What is Google Ads (AdWords)?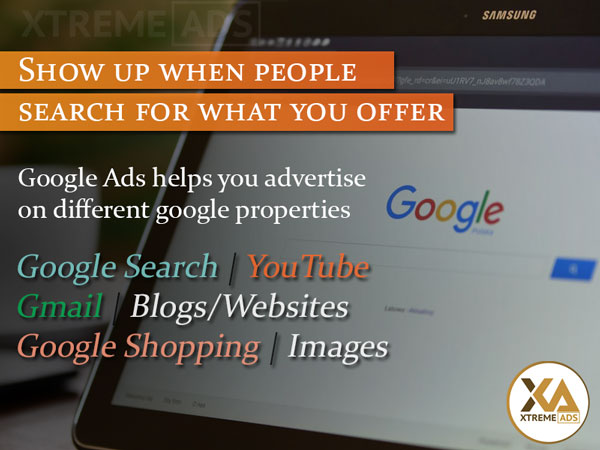 Google Ads (AdWords) is a Google online advertising platform that anyone can use to advertise their website/business online with google. It can help you drive interested people to your website
Online retailers can sell products with eCommerce websites while others can use Google ads to generate leads for their business. There are different types of campaigns available for every type of business that wants to promote their business with Google. To be successful with Google PPC, one needs to select the right kind of campaigns and Ads.
Types of Popular Google Ads
Google Search Ads: When a user searches in Google then the advertiser can show relevant ads to those users. Ads are either text ads or shopping ads for eCommerce websites.
Display Ads: Millions of websites have been partnered with Google to show ads on their website, mobiles, blogs, etc. These are known as display networks. They reach almost 90% of internet users worldwide.
Youtube Video Ads You can promote your video on youtube with Google ads. All the options are available there.
Mobile Apps Do you have mobile apps and want more installation & engagement. Google mobile ads is the solution for you.
Shopping Ads These ads are specially for the eCommerce website owners where they can promote their products in Google search and other properties.
There are few other Google ads campaigns like smart ads, discovery, store visit campaigns etc. Depending upon the goal, a business owner can decide the most suitable ads type. You can also check Cost of Google ads in India which can help you decide on a budget.
Our Google Ads Agency India Can Help with
1. LEAD GENERATION
If your goal is to get more email inquiries, call or chat from a website, then Google ads can help you. Search ads are more popular to generate quality leads. If you have an extra budget, then you can also try other types of ad campaigns. Read how to generate leads with Google Ads?
2. SELL PRODUCTS ONLINE
To sell your products, you need to have an eCommerce website. Recommended & most popular ads are Shopping Ads. Search, Smarts ads also work great to sell products with Google Ads. How to sell products online with Google ads?
3. MOBILE APPS PROMOTION
If your business has a mobile app on Android or iOS, then you can try Google ads universal mobile ads which can help you get more installation as well as increase engagement. This is cheap and completely measurable. Learn How to increase mobile apps installation with Google ads?
4. YOUTUBE VIDEO PROMOTION
Youtube is a new destination after Google search to find information, learn new skills etc. with Google video ads campaign, you can promote your video on youtube and other partner sites to get more views and subscribers. How to use Youtube Advertisements for Video/Channel promotion?
How to use Google ads?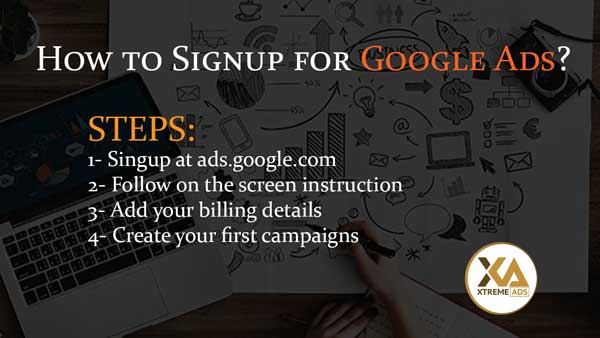 Google AdWords is a free platform and anyone can register and start advertising on it. Adwords is a very powerful but highly complex web application and so expert-level knowledge is highly recommended to use it otherwise it can cost a lot to an advertiser which can ruin his online adventure.
What is the minimum budget to start Google ads?
There is no minimum or maximum budget requirement for AdWords, You can start with any budget. But to get an idea of the budget, you have to do some keyword research, their cost in your targeting location. GoogleAds has an inbuilt tool that anyone can use to get an estimate of keywords cost, clicks and budget.
How much does Google Ads cost?
Google is very fair about charging money from advertisers. Unlike TV, radio ads, you can get complete reports on ad spending. You can use any one of the below ads bidding method
Cost per click- CPC: You will be charged when a user clicks on your ads but not for showing ads. These methods are used for showing ads in the Google search & display network.
CPM - Cost per thousand impressions: You can select this bidding method in a display network where you will be charged for showing ads and not for clicking on ads. It is good for branding purposes.
CPV-Cost per view: Generally it is used for advertising your video on youtube and other view sites where you will be charged for each view on your video ads. Check Google Ads pricing here.
What payment methods are available for Google ads?
There are different payment methods available to pay for Google ads. Depending upon your country, you will find 2 major ways of the billing method.
Automatic (post-pay): you can use your credit card, debit card or direct debit from your bank account. Google gives you a limit or a monthly date when it will charge your account or card.
Prepay: WIth this payment method, you need to top-up your account in advance. Once it is finished, your ads will stop running.
GOOGLE ADS FACTS & FEATURES
Start with any min or maximum budget
No long term contract
Start, Stop anytime you wish
Show ads in any particular location
Complete control on Ads timing
100% transparent report & billing
With the Google Ads platform, you can advertise on
Google search
Youtube
Gmail
Mobile Aps
And other websites which are part of Google display network
Our Google Ads agency in India can recommend and customize a winning campaign strategy to achieve your business goal.
Let's work with an Experience Google Ads Company
Not every business has the resources to hire a PPC expert team. Many business owners are even too busy to learn & manage their Google ads. This is where our agency can help you to manage your Google ads at a low cost. Our agency can help you with complete strategy making, setup, and regular management of AdWords campaigns.
Google ads take lots of time, effort and skill to produce profitable results. It needs years of experience to understand keyword behaviors, which types of ad copies work and what audience to target for your business. With our decade of experience, our PPC agency has all the resources, tools & experience to set up & run a winning AdWords campaign.
There are many steps and PPC Processes involved in Google Ads Setup & Management.
ABOUT US
We have been a Google Ads agency in India since 2010. We are specialized in lead generation and eCommerce sales with Google ads.
Our agency manages all types of Google ads such as Google search ads, shopping ads, youtube video ads, remarketing, Apps promotion, display advertising.
Our Google Ads agency also helps with landing page optimization to boost conversion and reduce cost per conversion.
A business may have different goals like brand awareness, new product launch etc. These all can be achieved with Google ads. Get in touch with our Google ads specialist to learn more.