Facebook Ads Pricing India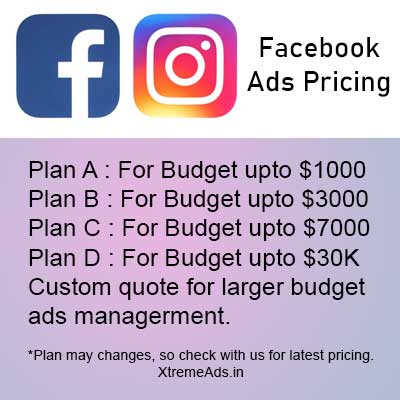 Facebook Ads are still cheaper than Google ads but with more advertisers are using Facebook ads, the cost is increasing. For this reason, it is important to optimize all ads professionally to get more profit. A better managed Facebook/Instagram campaign can bring more ROI.  Facebook Ads can be used to advertise also on Instagram and other networks.
Most of business owners use FB ads to either generate leads or to sell their products. We are specialized in both types of marketing. Our Facebook ads pricing are fixed depending upon the marketing monthly budget, no of campaigns, etc .
If you are looking for any other customer Facebook Ads package, then contact our team today. We also offer white label Facebook/Instagram Ads management services.
Instagram and Facebook Ads cost
Instagram Ads can also be managed from sale platforms as Facebook ads. Ads in the same campaign can be advertised on both and 3rd party platforms that can share the same budget. You will get a combined cost on ad spending.
Our Facebook and Instagram Packages include advertising on both platforms.
Plan A
Platform= Facebook+Instagram

Budget Range (monthly)= Rs.20K-50K ($500-$1000)

Quarterly fees: Rs.36,000
Plan B
Platform= Facebook+Instagram

Budget (monthly)= Up to Rs.1.5Lac ($3000)

Monthly Fee: Rs.18K ($300)

Quarterly fees: Rs.54,000 ($900)
Plan C
Platform= Facebook+Instagram

Budget (monthly)= Up to Rs.5Lac ($7000)

Monthly Fee: Fee: Rs.24K ($400)

Quarterly fees: Rs.72K ($1200)
Plan D
Platform= Facebook+Instagram

Budget (monthly)= Up to Rs.10 Lac ($15000)

Support: Chat, Email, Phone

Monthly Fee: Rs.36K ($600)

Quarterly fees: Rs.1,08,000 ($1800)
How much do Facebook and Instagram ads cost in India
Its a very basic question for everyone who want to advertise on Instagram or Facebook. How much FB ads cost, how much budget should I Use to advertise on Facebook or what is a good budget for FB ads?
Like Google Ads, there is no straight answer to such questions. Facebook doesn't ask you to spend any minimum or maximum amount on ads. Depending upon your marketing budget, Goal and expected return from Facebook ads, you can decide your budget, but we suggest for new advertisers to start with a small ads budget and scale it as you start getting results. In this way, you will know which type of campaigns, ads, locations are working and then you can better allocate your budget to that campaigns.
Facebook or Instagram Ads cost depends upon the competitors which results in higher or lower cost per click or cost per impression. Ultimately you need to decide how much you want to pay for each lead or sale and that can decide your profitability.
Suppose, you are can selling something for Rs.500 then you should calculate what should be the least amount you are willing to pay to sell 1 item. It may be Rs.200 or less/more.
If your CPA is low, then you can invest more and get more sales. All you need to do is find someone experienced to manage your Facebook/Instagram ads to save your cost, otherwise, FB ads can cost you too much.
What is the minimum budget for the Facebook ad?
Like we told you earlier, there is no minimum or Maximum budget for Facebook or Instagram ads.
You can start with even Rs.1 or $1 per day and goes up to a thousand per day.
So, How should you decide your Facebook ads budget? or what should be the ideal budget?
Most of the businesses have pre-defined marketing budgets like their other budgets. So it's easy for them to start Facebook advertising.
Many people have no clue of Ads budget, how much to spend on FB & Insta Ads? So, if you have or marketing agency that has experience in your industry, then you can get the expected result idea from a particular budget.
Like, If real estate leads cost Rs.50/lead and you want 10 leads per day, then you can start with Rs.500 budget per day on ads.
or, you may have a budget of Rs.1 lac per month but don't know what is ideal Facebook ads budget should be... So we will suggest doing some competitor research. There are many 3rd party tools that can give an idea on the budget spending of competitors.
Our suggestion is still to start with a small budget, get the result and then scale based on results from Facebook and Instagram Ads.