Youtube Ads Agency in India
Generate Leads, Get More Views & Subscribers
Our Google Ads agency is also specialized in Youtube Ads marketing services. We set up Youtube channels and help promote YT videos with Google Video Ads. Our PPC Experts have experience working on Video campaigns management to get more views, subscribers, leads and sales.
On daily basis, we receive many inquiries about Youtube ads and we are going to answer all the questions here. Some of them are
how to advertise on youtube
how to advertise your youtube channel
how to get ads on youtube
how to promote your youtube video
how to promote youtube channel
how to promote youtube videos
how to run ads on youtube
Youtube Ads Management Services
Youtube is the second largest search engine after Google. Users visit youtube to view videos of products, services, brands movies or just to learn something. They spend many hours per day on youtube searching & watching youtube videos. It provides lots of opportunities for business to target their customer with keywords, interested based targeting or by showing ads on a particular video.
With multiple targeting options, youtube ads offer an effective way to generate leads, sell products, get more views and subscribers.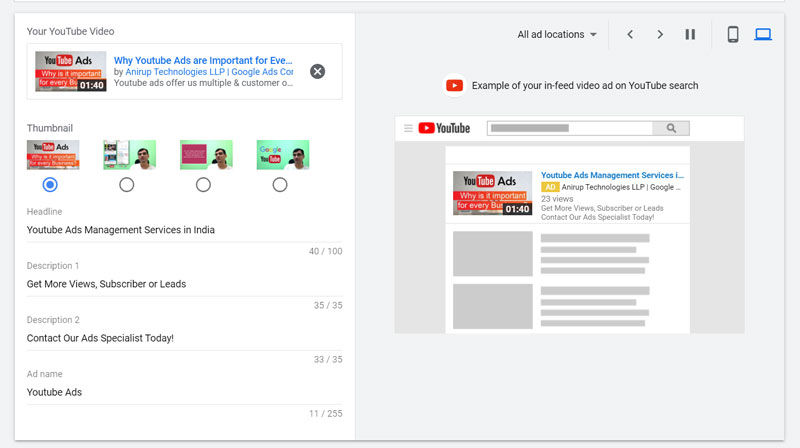 Youtube offers advertising opportunities for every type of business. You can get
More video views
More subscribers
Quality Leads
More Product sales
Brand Awareness
You can customized youtube ads as per your business goal.
What is a Youtube advertising agency in India?
Youtube is an open platform to run ads and promote your business. Google earn millions of dollar per days from youtube advertisers around the world. When someone views youtube ads or click on any ads on youtube, then the advertiser pay to Google.
If you don't know how to target your customer properly, then you will be wasting 80% of your money on Youtube Ads. A Youtube ad specialist near you can better design and run more effective ads so that you can get more results from this YT marketing.
We are a Google Partner and youtube advertising agency and have an in-house team of Youtube Ads specialists in India. We bring more views, subscribers, generate hundreds of leads and also promote e-commerce website with Google ads and Youtube Ads.
How to get started with youtube video ads?
Like any other campaign you need
Google Ads account
A website and video to promote
A payment method to pay to google
Setup a Video campaign in Google ads platform
A video is must and uploaded to youtube to run video ads
and skill on how to select right audience and setup everything.
Read more- How to Create your first youtube video ads
if you need any help related to Google youtube video campaign, then feel free to talk to our expert. They will provide you more details.