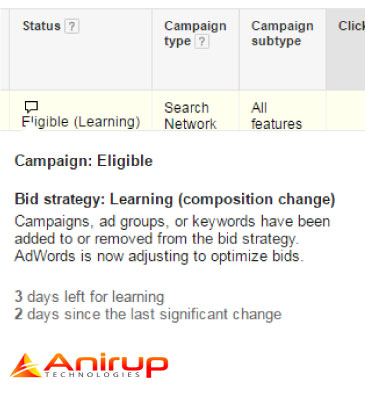 If you are managing an AdWords campaign then sometime you may have noticed such campaign status: eligible (Learning). Actually "learning" is an Automated Bid strategy status. So you will notice this only when you have any of the following automated bid strategies.
Maximize Clicks
Target Search page location
Target outranking share
Target CPA
Enhanced Cost per click (ECPC)
Target ROAS (Return on ad spend)
When you use an automated bid strategy then the AdWords system uses your campaign history to optimize your bid so that it can achieve targeted goal. But when you make any changes in the account then the AdWords system recalculates everything and tries to adjust its system with new changes.
This period can be 5 days or more/less. This is a learning period of the AdWords system and your account performance may not be good. So, it is also recommended that you should wait for sometime after making any changes in the campaign. Changes can be of any types like
settings
big
keywords
negative keywords
Ads
and so on…
Please share your feedback in the comments box and I would love to know about your views.