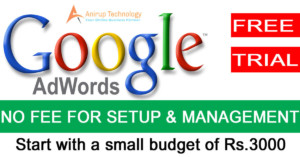 Google Adwords or Other Pay per click advertisement programs are an effective tool to reach targeted customers online. Today, most of the people do research online before making any purchase and so internet is has become a hotspot to reach those potential customers. There are many type of online advertisement option available like- SEO, Social media promotion, email marketing, sms marketing, but very few of them bring instant result.
Pay Per click advertisement start showing result within hours. Many new business owner worried about its result since they may not have used this marketing option before. To help them decide ppc advertisement, Anirup Technology is offering a 100% FREE TRIAL for 15 days for adwords, where any one can try PPC for this period without paying any fee to company.
You have to decide a small budget to pay to google and we will do all other things absolutely free! We will do
New adwords account creation
keywords research
campaign setup
ads creation
banner ads setup
and all other work which involve in our any premium PPC plan.
Check our services for more details about our work.